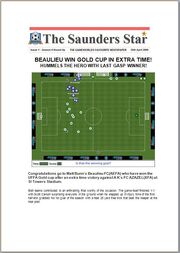 The Saunders Star is the first official newspaper from GW Saunders. First director of The Saunders Star was Tommy Reeves (manager of the once so mighty Inter Melamb).  The newspaper was devided in different sections.
Important Pages
Edit
Most of the time the Gold cup final made it at the mainpage of the newspaper. Long Interviews & highlights of the match + special page for the ratings from that match were also on the first pages. After That came the even so important Youth Gold cup with the same setup.
Ad blocker interference detected!
Wikia is a free-to-use site that makes money from advertising. We have a modified experience for viewers using ad blockers

Wikia is not accessible if you've made further modifications. Remove the custom ad blocker rule(s) and the page will load as expected.